Christmas Toys For Boys 2009
Monday, November 2nd, 2009 at 11:33 am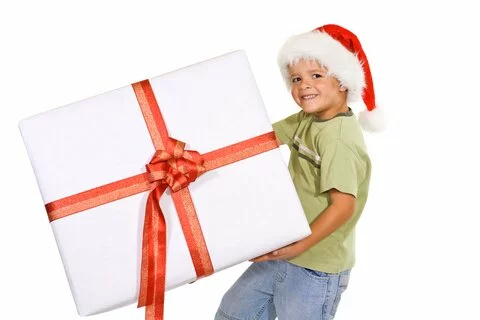 These toys are still great, but click here for the top toys for Christmas 2010.
The Toy Retailers Association has just announced its dream dozen Christmas toys for boys that Santa should bring this year. Most of these Christmas gifts for boys are from television or film related toy ranges. Ben 10, the boy's range of the year, gets a mention along with Transformers, Star Wars and a few new-comers such as the spinning top sensation called Battle Strikers. The full list of toys is detailed below. We have ranked them according to how good we think they are and given our thoughts on each one. Please hover over the image or Amazon button for a current price on all of these Christmas toys.
#1 Nerf Raider Rapid Fire CS-35
#2 Star Wars Clone Wars Ultimate Blaster
#3 Battle Strikers Starter Set
#4 Transformers Deluxe
#5 Bakugan Battle Pack
#6 Transformers Voyager
#7 Screature
#8 GX Racers Tightrope Terror
#9 HM Armed Forces Tank
#10 Ben 10 Alien Force Kevin Levin's Action Cruiser
#11 Gormiti The Lords Of Nature Return Guardian Creature
#12 Bladez Salvation 3D Helicopter with Flight Stick
#1 Nerf Raider Rapid Fire CS-35
A rapid fire gun that is easy to pump and shoot
It is not noisy and no batteries are needed
Holds a large number of darts and can fire a good distance
The Nerf Raider CS 35 air powered blaster has a special drum magazine giving it the highest dart capacity yet. The drum magazine holds 35 darts and features a clear window to let you know when they're getting low. A pump action handle lets you control your rate of fire and choose your blasting mode of either single or multi shot. It also has an adjustable stock for steady aiming and firing and a tactical rail for attaching compatible NStrike accessories. It is recommended for children aged 6 and over to use outdoors.
Our thoughts
The 35 round drum and associated rapid fire action is a real winner with children. The darts can reach a good distance when fired – at least 80ft, but do not hurt you if you manage to get hit by one. They are easy to load, although the process can take a few minutes, and the gun is very easy to pump and fire. Its other plus points are that it never seems to jam, it is not too bulky to store, is not noisy and does not need batteries so there are no ongoing costs associated with it. If you can get your children to stand still long enough it would be good for their coordination if they could learn to shoot at targets, perhaps empty cans. The only downside is finding all the darts once you've shot them! Nerf is well thought of as a robust, quality product and is likely to provide hours of fun for both children and adults.

.
#2 Star Wars Clone Wars Ultimate Blaster
Three guns can be built from the pieces in this kit
Movie sounds that change with different configurations
Measures over 2 feet long in one mode
The Star Wars Blaster is a three in one gun. You choose either the barrels for the pistol, short rifle or long rifle and snap them together with the other pieces, such as the magazine, butt stock, folding stock, central chamber and scope. The blaster features lights and sounds to encourage exciting role-play.
Our thoughts
This blaster is a good size for both children and adults. It is in a similar vein to the build-your-own Lightsaber kits that have been popular lately. It makes great sounds taken from the movie, which can be altered by changing where the magazine is connected and by changing the barrel combinations. You also get sound effects when snapping the pieces together. The long rifle is huge, measuring over 2 feet in length once assembled, so if you are not into Star Wars Miniatures, this is the toy for you. It maybe slightly too big for younger children though. The most exciting piece is the central chamber which gives off a blue pulsing light that runs up and down the barrel when fired. The only let down is the fact that the scope is not even an attempt at being real. Once assembled the blaster looks, sounds and feels hefty and amazing – great for imaginative Star Wars play.

.
#3 Battle Strikers Starter Set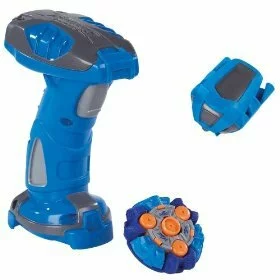 A launch, control and battle experience
Customise your own Battle Striker
Starter Set includes everything you need to get going
Battle Strikers are the latest innovation in battling spinning tops. The are powered up to excessive speeds via a Turbo Launcher with no rip cords in sight. They are then released into battle and are controlled during play with a fingertip Controller which uses magnetic technology. There are many Strikers to choose from and collect and they can also be taken apart and reassembled with parts from others to make super Strikers. The Starter sets contain the basic necessities you need to play – a Battle Striker, a Controller and a Turbo Launcher. There are two sets to choose from – one red and one blue.
Our thoughts
Battle Strikers are likely to be the next boys toys craze as they are the first battling tops which are actually controlled by the players during play. They also follow a favourite playing pattern of boys, being collecting, customising and competing. Everything is well made and will take some heavy playing very well. Please check out our '10 Things Every Parent Needs To Know' article to find out more about them.

.
#4 Transformers Deluxe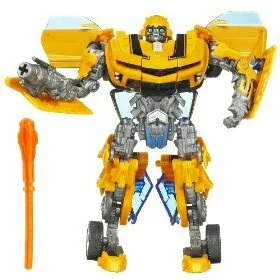 Well made and realistic to the movie characters
Satisfying transformation with 15 + movements required
Excellent articulation in robot mode
For around £13 you can recreate exciting movie scenes with a Transformers 2 Deluxe Figure that converts with a few twists and turns into a cool vehicle and comes with a missile accessory.
Our thoughts
These 19cm figures are realistic to the well loved movie characters, well made and come with an impressive amount of detail. The transformation is perfect for Transformers fans – it is complex and involved, so not too easy but not too fiddly either. There are 15 or more movements to move the figure from vehicle to robot, so you will be satisfied when it is done, but may need to help younger children. If you think you may find the transformation too difficult, try the Fast Action Battlers which were specifically designed to have a quicker and easier transformation. They are less accurately detailed though. The robot modes are excellent, with at least 14 points of articulation making the figures able to achieve a range of poses. These Deluxe Transformers will offer hours of fun for children.
There are a few downsides to these toys. Firstly the instructions to help you transform the toy are very poor, secondly the prices fluctuate quite a lot and lastly you may find that some vehicle modes are less interesting than others.

or compare prices for each character.
#5 Bakugan Battle Pack
Magnetic marbles that pop open to reveal fierce warriors inside
A game of skill and strategy
This is a cost effective multi pack
Bakugan is an anime series about creatures of the same name and the battle brawlers who control them. The creatures are hidden inside magnetic marbles, which pop open when thrown onto the metallic cards to reveal the fierce warriors inside. The aim of the game is to win points awarded on the cards by getting your Bakugan to land on the card. You have to place the cards effectively as each one affects the battle differently. The Bakugan Battle Pack is great for a two player battle as it contains 6 Bakugans, 6 metallic cards and 6 ability cards.
Our thoughts
There are many different Bakugan to choose from in a range of colours and creatures. They are durable when being thrown across the battle cards and are fun to collect and trade. Children will have hours of fun with the challenge of rolling them correctly to earn points and watching them suddenly transform into warrior mode. The game combines skill of rolling your Bakugan with strategy of placing the cards effectively. The marbles are small enough for your child to carry around or out and about and cheap enough individually to buy extras from pocket money. They are also good to help with maths as you have to work out whether yours or your opponent's Bakugan is stronger and how much more power is needed to win. The only downside of this pack is that you do not know which Bakugan you are getting as the allocations to each box are random.

.
#6 Transformers Voyager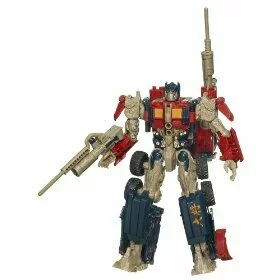 Large scale replica of the movie characters
Features Mech Alive technology so you can see internal gearing
Also includes a vehicle attack mode
For around £23 you can buy a large scale (28cm) replica of a movie character being the Transfomers 2 Voyager Figure. They include realistic styling and detailed conversion from vehicle to robot mode. They feature Mech Alive technology meaning their internal gears are shown when certain parts of the toy are moved and they are armed with missiles ready for battle.
Our thoughts
This class of Transformers 2 toy is priced mid way between the Deluxe and the Leader classes. The vehicle mode is nicely detailed and the robot mode is well articulated and moves cleanly. Well built joints and cleverly designed feet, enable many poses to be achieved. The representation to the movie characters is good. Transforming between modes is a little tricky and slightly awkward to start off with but practice makes perfect. Once in robot mode, with a few more twists, you can get a vehicle attack mode where the weapons are used. Do not think this is triple transforming toy though as the attack mode is more of a small extra. For value for money, the Deluxe class may be a better bet.

or compare prices for each character.
#7 Screature
Sensitive dinosaur who reacts to touch or movement
Can be friendly, attack or spit water
Great for dinosaur mad children
This feisty predator is very sensitive – touch his nose and he will rise up, puff out his frills and spit water at you, if he senses movement he will know it is time to attack and will rise up in an aggressive stance. If his neck frills are standing out, watch out as he is ready to attack. He can be tamed though by patting him on his back, when he will pant or purr with appreciation.
Our thoughts
What a great little creature for any dinosaur lover. Children will love putting their hands in front of his mouth to make him snap and spray water all over them. It may not be ideal for really young children though as they may be frightened by it, although probably drawn to it at the same time. After the initial fun, he will likely be brought out with regularity to spit water at your child's other toys such as action figures and other dinosaurs. It may also be used to scare the life out of unsuspecting visitors! The water container used for the spray attack is quite small but easy to fill. The spray itself is very fine so will not make too much mess but does reach about 10 feet in range. It is about 30cm tall, well made, reasonably tough and easy to activate, but does not walk or jump about. Make sure you turn it to its full ON position on the foot though when you get it out of the box or you are stuck with it in demo mode which is not fully operational.

.
#8 GX Racers Tightrope Terror
Watch the car cross a tightrope
Use the designed set or make up your own
The car is fun on its own
These GX Racers perform high-flying gravity defying stunts. Using the power of the gyroscope and ripcord, even on four wheels they can achieve extreme speeds to run across a tightrope, high above the ground and jump 10ft into the air. There are two ways to play with this set – you can either use the set as shown in the instructions or connect any two points in your room and join up the track. The set includes the GX Racer car, a track set, a rip cord and line walking stunt gyro.
Our thoughts
This is one of those toys with mixed opinions. On the upsides the car on its own is great and lots of fun. After that if you can get the car to cross the track completely you will have loads of fun and be amazed watching it fly through the air. More often than not though the car falls off right at the end. If you struggle then try the following tips. Make sure you have a good selection of heavy books to hand as you will need them to anchor down the two towers shown in the picture. Then start off with a short piece of rope, make sure it is aligned well in the grooves on the towers, pull it really tight and secure the ends. If you then pull on the ripcord hard enough you should be lucky. On the downsides the towers and bases are made of cheap, flimsy plastic and once you have snapped them together you may not want to take them apart to store for fear of them breaking.

.
#9 HM Armed Forces Tank
The HM Armed Forces toys launched in 2009 have taken over where Action Man left off. The new range is hugely popular and includes action figures, vehicles and role play toys inspired by the modern British military. This large scale, 48cm long Army Fast Pursuit Battle Tank has detailed desert camouflage and is ready for action with its real firing missile and rotating turret. The turret opens and you can fit two infantrymen inside the driving hatches. 25cm action figures are available to buy separately. There is room for storage of weapons and accessories in the equipment boxes. It is fully armoured and handles rough terrain well with its tank treads giving super traction.
Our thoughts
Your children will love this toy, but you're bank balance will not. It is a great replica and likely to get played with a lot although it is quite expensive. In the hands of a rough child, you may also find a few lids and hatches coming off. For more information on the whole HM Armed Forces toy range, please check out our '10 Things Every Parent Needs To Know' article.

.
#10 Ben 10 Alien Force Kevin Levin's Action Cruiser
Kevin's cool green car
Transforms to battle mode
Shoots out alien pods
This set includes a 10cm Ben 10 Kevin 11 figure and Kevin's signature vehicle, a cool green car which is packed full of fun features. It has a lab to make planetary powder capsules which can be shot out when it transforms to battle mode.
Our thoughts
Your children will love this toy to take part in their alien adventures, but you as parents probably will not. It is not as durable as you are used to with the Ben 10 action figures and Omnitrix watches. It has various transforming parts and this is where the trouble starts. Doors and engine covers and other parts fall off quite often and it is quite complicated for younger fans to put back together. More disappointment comes when trying to launch the alien pods from the car as they tend to roll, rather than shoot.
If you want something that transforms, stick with the Transfomers 2 Deluxe figures (see #4) or if you want something Ben 10 related, check out our Top Rated favourites.

.
#11 Gormiti The Lords Of Nature Return Guardian Creature
Figure and creature set
Fully poseable
Four sets to choose from
These Gormiti sets contain a guardian creature and a 12cm tribal Lord figure. The creatures protect the Lords during battle. Each character has its own personality based on the magical powers and strength they possess from one of the elements of Earth, Forest, Air and Volcano. Both figures and creatures are fully poseable and the creatures have an attacking feature. There are four of these creatures and figure sets to choose from: Lucas with Troncalion, Magmion with Drakkon, Toby with Tentaclion and Nick with Roscalion.

.
#12 Bladez Salvation 3D Helicopter with Flight Stick
Joystick control of a flying helicopter
Vibration control
8-9 minute flying time with an 8 metre range
This helicopter is the next step forward in indoor remote control flying. You have full control of the helicopter by using the Flight Stick which is like a joystick. There is vibration control so the higher you fly, the greater the vibration. The Flight Stick is powered by batteries or using the USB port on your computer. The Helicopter is charged by your computer or the Flight Stick. The Helicopter has an 8 metre range to fly from the Flight Stick, can fly for 8-9 minutes on each charge and features a self-righting system. The blades fold up when the Helicopter crashes so as to avoid any damage. There is a tri-band switch so if you happen to have three such Helicopters they can all fly together.

.
So there you are – a few hot boys toys for Christmas that you should consider. If you have started planning what Christmas toys to buy for your boys, hopefully the information above should have given you some idea of the best toys out there. If on the other hand you have the excitement of a newborn to buy for this holiday season, check out these unusual ideas over at Unique Gift Newborn Babies.
While you're in the festive mood, why not give a thought to your Christmas decorations. I know my son would love to cover the front of our house with animated outdoor Christmas lights. You could let your children's creative side run wild by getting them to help choose and design your display this year.
If you found this article useful in any way, please consider linking to it or sharing it with others. Don't miss any future tips on topics related to toys – subscribe to our RSS feed today and get loads more FREE.
Related Posts
Tagged with: ben 10 kevin 11 • boys toys • christmas gifts for boys • christmas toys • star wars blaster
Like this post? Subscribe to my RSS feed and get loads more FREE!