Did Your Kids Love The Gruffalo Book? Yes, Then Try The Mystical Wood
Sunday, November 6th, 2011 at 12:19 pm

The story's great. The pictures are fantastic. The characters are a bit scary but funny at the same time. The rhyme carries you quickly through the adventure. And there are 5 chapters, so you're getting great value for money.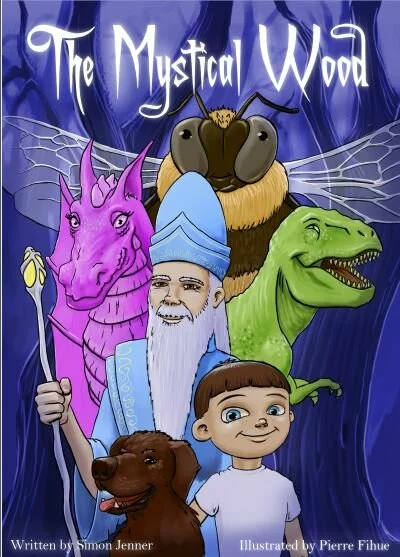 OK, OK, I'm biased. I admit it – this book is written by husband and the creatures are inspired by my son. But early UNBIASED reviews agree with me! Read them here on Amazon.com where you can also buy a paperback version although postage from the US is currently expensive.
It's only available for Kindle in the UK but you can see the great colour illustrations using Kindle for PC or on the new Kindle Fire when that comes out.
==> Click here for more information on Amazon.co.uk <==
So what's it all about?
Well a boy loses his dog and ventures into 'The Mystical Wood' to find him. He comes across a wizard who sends him on his way to find his dog with a magical sack. The boy has to use the gifts the sack contains to help three mystical creatures (a dragon, a giant bumblebee and a T-rex) he meets along the way. Will he find his dog and get back home?
This book tells this great adventure through rhyme, a very attention grabbing medium for children.
At over 2000 words, the book is three times longer than The Gruffalo but can still be read in one sitting, or split into chapters depending on the age of your child.
It can be read aloud together or your child can read it alone. There is new vocabulary to learn and positive values to understand, all packed into a fun children's picture book.
Click HERE to buy the Kindle version.
If you like it, I would be very grateful if you would leave a review on Amazon! Thanks.
Related Posts
No related posts.
Tagged with: childrens picture book • rhyming poems for kids • the gruffalo book • the gruffalos child • the mystical wood
Like this post? Subscribe to my RSS feed and get loads more FREE!