G.I Joe Toys – The Rise Of Cobra – 10 Things Every Parent Needs To Know
Friday, August 14th, 2009 at 5:46 pm

Following the recent cinema release of the movie "G.I Joe – The Rise Of Cobra", you can now buy all the movie related G.I Joe toys and accessories your little ones will no doubt desire. The military styled articulated action figures of G.I Joe (or Action Man as he was known in the UK) have been around for donkeys years and are arguably the best action figures of all time. The addition of this new line of figures and role play toys is sure to be a great draw for any boy.
So what are they all about and are they worth buying?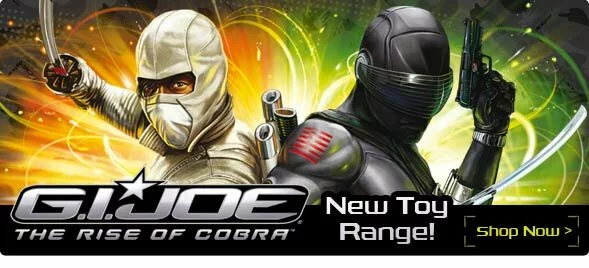 If you are in a rush, please just skip ahead to the section that interests you most:
1. What are G.I Joe Toys?
2. For what age group are G.I Joe Toys suitable?
3. Are G.I Joe Toys any good?
4. How much do G.I Joe Toys cost?
5. What toys and merchandise does the G.I Joe Toys range include?
6. Which is the best G.I Joe Toy?
7. Which is the worst G.I Joe Toy?
8. What educational value does the G.I Joe Toys range provide?
9. Which toy should I buy for a child that has most of the G.I Joe Toys range already?
10. Where can I buy G.I Joe Toys online?
1. What are G.I Joe Toys?
G.I. Joe toys are military-themed articulated action figures and role play toys produced by the toy company Hasbro. They mimic the elite military unit comprised of special operatives from the new film, operate out of a headquarters called The Pit, and fight evil in the form of an arms dealing organisation.
If you prefer a range of British Armed Forces figures check out our previous post on the range of HM Armed Forces toys and specifically the top 5 HM Armed Forces figures from Character.
2. For what age group are G.I Joe Toys suitable?
The range is primarily aimed at boys aged 4 and above.
3. Are G.I Joe Toys any good?
What boys don't love playing with toy soldiers? After watching good defeat evil in the new film, they are sure to love acting out their own mini battles with these action figures and vehicles. There are are a variety of figures to choose from at prices to suit all budgets.
Made by the toy giant Hasbro, the G.I Joe toys come with a good pedigree – an important buying criteria for parents in these difficult economic times.
4. How much do G.I Joe Toys cost?
The 9.5cm figures cost around £8, with larger figures going up to £23. Small vehicles start at £15 and the Rolls Royce of this range, the Headquarters Set costs a whopping £130 – reviews are good though!
5. What toys and merchandise does the G.I Joe Toys range include?
ACTION FIGURES

9.5cm Single Figure (£8) Compare Prices
There is a large range of these smaller action figures to choose from. Including goodies (the G.I Joe forces) and baddies (the evil Cobra forces), key characters from the film are represented. There are even two female action figures.
Each figure comes with a stand and a selection of weapon accessories such as a heavy duty machine gun, a dagger and a firing projectile gun.
15cm Action Battlers (£13) Compare Prices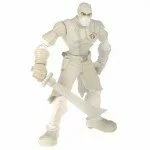 Choose from four of the film's key characters, Snake Eyes, Conrad Duke Hauser, Cobra Viper Commando and Storm Shadow, in these 15cm action figures. Squeeze their legs to activate their quick sword-slicing action.
The sword accessory is included.
30cm Ninjas (£23) Compare Prices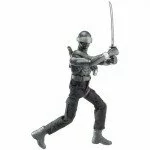 Snake Eyes and Storm Shadow make another appearance in the G.I Joe action figure lineup but this time as the large scale 30cm version. These large scale figures hark back to the original G.I Joe characters that were launched in 1964. For the extra money you get real, detailed clothing, weapons and sword fighting actions that activate electronic sounds.
VEHICLES
Alpha Vehicles (£15) Compare Prices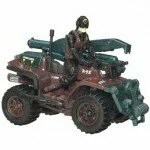 There are four vehicles to choose from. Each vehicle is equipped with projectiles, launchers and surprise attack features. For example the Mole Pod, designed to drill through walls, has an opening cockpit, a front-nose spinning drill and a firing missile. A 9.5cm action figure comes with each vehicle making a great little playset.
Bravo Vehicles (£30) Compare Prices
There are three larger vehicles in this Bravo range. Each vehicle is equipped with a hidden reveal weapons system so just pop up the missile launcher and flip down the missile storage bays to get ready for action. A 9.5cm action figure comes with the vehicle.
Night Raven Vehicle (£40) Compare Prices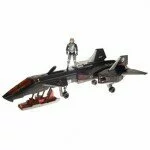 The Night Raven is the fearsome fighter jet from the film. This role play copy encourages adventurous play coming with electronic lights and sounds. You can lower the handle to "fly" this jet vehicle and the retractable landing gear is another feature. A 9.5cm action figure comes with the vehicle and fits in the cockpit. There is a lock-and-load firing action and two rotating 6-missile launchers.
ROLE PLAY ACCESSORIES

Walkie Talkies (£17) Compare Prices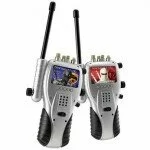 Your little ones can pretend to be part of the G.I Joe team with their very own walkie talkies. Encourage their imagination by letting them create action adventures with these communication toys.
Snake Eyes Sword & Mask Playset (£25) Compare Prices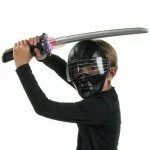 This playset is based on the Ninja character, Snake Eyes from the film and contains his mask and Katana-style sword. Press a button on the sword or swing the blade for electronic lights and sounds and launch covert attacks with the hidden missile and accessories launcher.
PIT Mobile Headquarters (£130) Compare Prices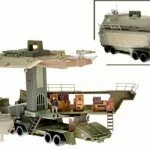 The G.I. Joe PIT Mobile Headquarters is an expandable, multi-level playset that recreates the fortress headquarters for G.I Joe as featured in the film. It transforms easily from a heavily armoured vehicle into a high-tech headquarters from which your child's favourite G.I. Joe characters can conduct operations.
The headquarters has both stairs and an elevator to move between levels, as well as electronic sounds and several secret compartments. Side and front weaponry protects the vehicle mode, while it converts into a gun platform when in headquarters mode. There are footpegs that hold up to 84 figures (sold separately).
The set also comes with a 9.5cm action figure.
OTHER G.I JOE TOYS

Top Trumps (£5) Compare Prices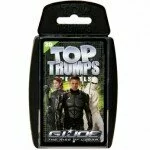 This pack of Top Trumps, features all the heroes and villains from the film. The artwork is attractive and detailed and the cards are set up to play a 3D game on your computer once the free software has been downloaded.
Video Games (from £20) Compare Prices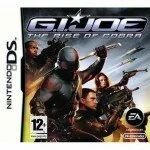 In this new G.I. Joe video game, you must lead the counter attack, as Cobra unleashes its deadliest plot yet. Your hand-picked team of heroes must battle Cobra organisation's deadliest characters as you snake your way through enemy territory.
Available for all platforms.
6. Which is the best G.I Joe Toy?
9.5cm Single Figures
These figures have incredible articulation so you can pose them in some pretty good stances. The detailing of colour and clothing is also impressive and they resemble the movie version of the characters well. The figures are sturdy and come with a great assortment of top notch accessories that offer loads of fun for children.
Bravo Vehicles
These large vehicles are well put together and can stand the batterings dished out by children.
PIT Mobile Headquarters
Offering hours of play this popular playset is huge, has so many hidden features with so much to do, the play possibilities are endless. It is easier to play with opened up rather than in vehicle mode but having the two options adds to its longevity as an interesting toy. The quality is not child proof so the set needs more TLC than perhaps the figures. Some of the pieces do not lock in place and some of the door hinges need reattaching often. There are a lot of small parts and enough stickers to keep your little ones busy just for a day with them! The main downside is the hefty price tag but you are getting a great toy. Keep your eye out for any discount offers that may fly around before Christmas to sweeten the deal.
7. Which is the worst G.I Joe Toy?
30cm Ninjas
These ninjas look slightly odd with an out of proportion chest and different sized arms. The weapons and clothes are better but nothing spectacular. They are not as detailed as the texturing you find on the fully plastic 9.5cm figures although the face detailing is pretty good. The accessories are stored well when not in battle but can cause some difficulty for posing along with the small feet which make it hard to stand. Swivel/hinge joints are missing from the neck and torso which makes posing less than ideal and most of the articulation is pretty loose. No doubt most children will enjoy the phrases and fighting sounds that are activated via the push buttons on the back or on the chest but save yourself a few pounds and get your child to be creative making his own sounds with the much better 9.5cm figures.
Night Raven Vehicle
The pictures on the box look great but the actual toy doesn't live up to the promise. The detailing is not up to much and the colour is more navy than black. You need to snap on parts of the jet that are a slightly different shade, making them look like add ons. The only upsides are the sounds made by the jet – all of which are great: the jet flyby sound, the blast and bullet ricochet firing sounds, the alarm beep and the various pilot communication sounds. You can also play these sounds simultaneously to add to the reality of your game play.
Walkie Talkies
Are any children's walkie talkies any good? No, we have had a few sets and they have all been terrible. The trouble is they look good and boys seems to be particularly partial to dashing about on 'operations' with them. Disappointment soon sets in though when they only work a few metres apart and then only in open areas – not quite the exciting covert missions they had envisaged. Be advised – spend a few more pounds on a real set that will actually work.
8. What educational value does the G.I Joe Toys range provide?
These action figures and vehicles can be animated, stopped and started mid game and started again in an entirely different scenario. Sharing these experiences with other children promotes social development as they express themselves through play. Playing with toy soldiers provides strong, positive role models for children. It helps develop their moral reasoning by identifying the good from the bad characters.
9. Which toy should I buy for a child that has most of the G.I Joe Toys range already?
The video games are getting good reviews.
10. Where can I buy G.I Joe Toys online?
Compare prices here now for the major online retailers – Amazon, Toys R Us and The Toy Shop.
Fun Facts
Encourage your children to live by the G.I Joe tagline – "When All Else Fails, They Don't".
Impress them with your knowledge that G.I.J.O.E. is an acronym for "Global Integrated Joint Operating Entity.".
If you take them to see the film point out that the scar on Duke's cheek changes size throughout the film. In the beginning it is quite long but a lot smaller by the end!
If your child has any G.I Joe Toys I'd love to hear your thoughts on them. Please leave me a comment.
Related Posts
Tagged with: G.I joe action figure • G.I joe action figures • G.I joe figure • G.I joe figures • G.I joe toy • G.I joe toys
Like this post? Subscribe to my RSS feed and get loads more FREE!