How To Fix The Ben 10 Mini Figures To The Alien Force Ultimate Omnitrix Watch
Tuesday, June 16th, 2009 at 3:59 pm

I have received a few questions lately from readers asking about the new Alien Force Ben 10 Omnitrix watch:
Adrian asked "How do I fix the translucent figures onto the Ben 10 Ultimate Omnitrix?"
David asked "How do I take the action figure off from the Omnitrix?"
Sam asked for "Instructions for changing Ben 10 mini figures on the Omnitrix Watch."
So here's a little post I've put together to answer these questions.
What is the Ben 10 Ultimate Omnitrix watch?
The new Ben 10 Ultimate Omnitrix matches the one worn by the now 15 year old Ben in the new Ben 10 Alien Force cartoon series. It features lights and cool sound effects on its own but you can attach a mini translucent alien figure to the top of the watch to activate the alien's voice. The mini transparent Swampfire alien figure comes with the Omnitrix but you can buy other aliens as part of the 2-in-1 toy bundles that are the 10cm Alien Collection Figures (sold separately).
To attach the mini figure to the face of the watch:
Hold the figure so that it faces the on-off switch (the little, black, left to right slider you can see on the side of the watch).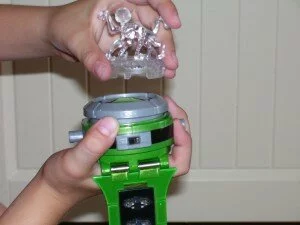 Position it directly above the top of the watch face.
Align the plastic holders on the base of the figure (you can see them in the photo above) with the holes around the watch face (the outermost black circle in the photo below).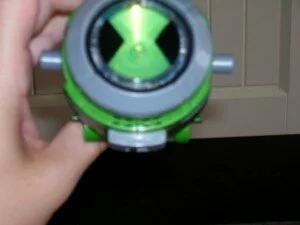 When the figure is in the exact position, click into place.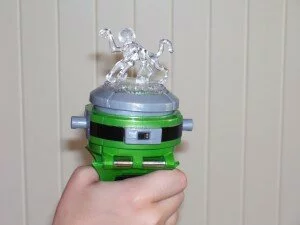 To remove the mini figure:
Grab the feet of the alien.
Tilt the figure towards the on-off switch until it snaps away.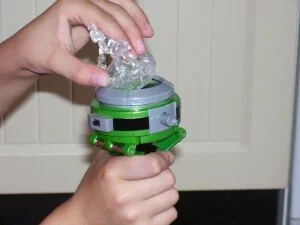 To watch a video of the Ultimate Omnitrix 'Out Of The Box' in action or to compare prices for this and other toys, please visit our main Ben 10 toys site.
Do you have any other questions about the Ben 10 Omnitrix watches that you would like me to answer? Please let me know by leaving a comment.
Readers of this page also read these "Top 10 Christmas Toys" pages:
Readers of this page also read these "10 Things Every Parent Needs To Know" pages:
If you found this useful, please consider linking to it or sharing it with others.  Don't miss any future tips on topics related to toys – subscribe to our RSS feed today and get loads more FREE.
Related Posts
Tagged with: alien force ultimate omnitrix • ben 10 mini figures • ben 10 translucent figures
Like this post? Subscribe to my RSS feed and get loads more FREE!