How To Make A Ben 10 Themed Party Bag On A Budget
Tuesday, June 9th, 2009 at 5:16 pm

You have agreed the date and who to invite and have sent the invitations.
You know the party will be a Ben 10 birthday adventure and have ordered relevant decorations.
You have decided on the food and have bought Ben 10 tableware.
You have chosen whether to buy or bake the Ben 10 cake.
You have some ideas for Ben 10 party games.
Now you are left with organising the Ben 10 party bags to send the little terrors home with, when at last you can collapse on the sofa!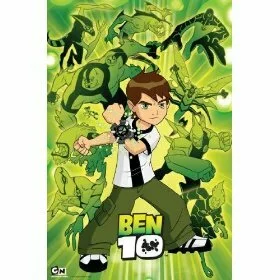 Whilst this blog post assumes you are having a Ben 10 party, the ideas could obviously be applied to any theme. The party specialist Party Delights offers party paraphernalia for more themes and characters than you can imagine!
So you have two options for Ben 10 loot bags – you can go the quick route and order the prefilled version from Amazon or have a bit of fun and design one yourself. You could even get your child to help choose items and fill the bags.
Personally I find some of the contents in the prefilled bags a bit tacky and not always completely on theme. So I prefer to choose things that I know my son would like to receive if he had gone to a party. I also like to keep as many of the items tied to the party theme rather than just chuck in any old toy. So where do you start?
1. Set a budget
When you have decided how much you can afford to spend on party bags divide that by the number of children you are expecting at the party.
2. Find a party supplies retailer

Generally party supply companies are the best place to start when looking for party bag fillers as they specifically stock the smaller, cheaper themed toys that you will need.  Amazon has a basic selection such as balloons, bubbles and blowouts but for anything more adventurous, and certainly for themed favours, I highly recommend you check out Party Delights.
3. Make a list of the themed favours on sale
Note down all of the themed favours that you find on the party supplies website and work out how much they cost per item. They are usually sold in multi packs so you need to calculate the per item cost. Order your list by descending unit cost. For example, from Party Delights I found the following Ben 10 items:
| | | | |
| --- | --- | --- | --- |
| Item | Cost | In Pack | Unit Cost |
| Carry pack | 3.99 | 1 | 3.99 |
| Poster art set | 2.99 | 1 | 2.99 |
| Colouring set | 1.99 | 1 | 1.99 |
| Stickers | 0.99 | 1 | 0.99 |
| Wristbands | 2.49 | 4 | 0.62 |
| Bubble tubs | 2.99 | 6 | 0.50 |
| Balloons | 2.15 | 6 | 0.36 |
| Blowout | 2.25 | 8 | 0.28 |
I did find some extra favours on Amazon, such as 10cm figures to build, and sometimes the Amazon prices were cheaper.  However, most of the party favours from Amazon are sold by Marketplace sellers and unless you are lucky enough to get all your favours from the same seller you will pay multiple delivery charges, which outweighs any individual item price differences.
4. Choose your main favours

Allocate about half of your per child budget to your main favour. Then select two other cheaper themed items. Remember if you are inviting both girls and boys to your party that you need suitable unisex toys.
5. Spend your remaining budget
Work out how much money you have left and choose some sweets and odd toys to use up your remaining budget. The Party Delights website helpfully orders their odd toys in price order so you can easily find something in your budget.
6. Choose between a loot bag or box

Now you have decided what will go in your party bag you need a loot bag or box to put everything in.  Bags cost approx. 20p each and boxes approx. 35p each. Bags are smaller than boxes so make sure you will be able to fit everything inside.
7. Fill that party bag
Once all of your party supplies arrive get packing! Don't forget a thank you note and a slice of cake!
Here are some examples of party bags I could have made with different budgets:
£1.50 – wristband, balloon, blowout, Haribo Starmix & Swizzles lolly.
£2.50 – stickers, wristband, bubbles, Cola Bottle sweets & dinosaur figure.
£3.50 – colouring set, stickers, balloon, Swizzlers & tattoo.
If you have any good ideas for making themed party bags on a budget I'd love to hear them. Please leave me a comment.
Readers of this page also read these "Top 10 Christmas Toys" pages:
Readers of this page also read these "10 Things Every Parent Needs To Know" pages:
If you found this article useful in any way, please consider linking to it or sharing it with others.  Don't miss any future tips on topics related to toys – subscribe to our RSS feed today and get loads more FREE.
Related Posts
Tagged with: ben 10 birthday • ben 10 loot bags • ben 10 party bag
Like this post? Subscribe to my RSS feed and get loads more FREE!